Its upon us, the last ski day of the season of 2017/2018. The sun came out and the skies were blue as ordered. We set off early to the ski station of Saint Lary-Soulan, our family favourite. We were going to make the most of the beautiful weather and spring snow. The slopes were surprisingly empty, possibly because the holidays here in France don't start until mid April. A fabulous fun packed family day skiing ahead of us.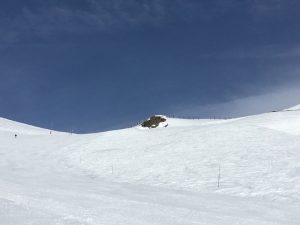 Like many I am a fair weather skier and so a bit picky about when we go out as a family. There are just a few tips to have the best day skiing with the family. First some sunshine, then a good snow pack, and a couple of kids with too much energy.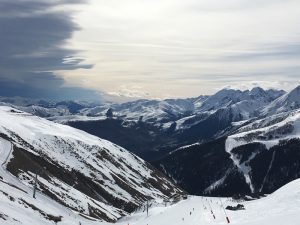 We had no plans particularly but to ski to the furthest side of the mountain and reach the top of the highest slope for a good photo opportunity, so we set off. When we finally get there the views are breathtaking in every direction. The wind at the top was fairly brisk and meant we didn't stand still too long.
We decided to have lunch at the Refuge L'oule in the middle of the mountains, a restaurant with the facility to sleep overnight. Open all year round its a real gem. The food is good and service very friendly. We enjoyed fresh cooked food on the wood fire outside. We ate on the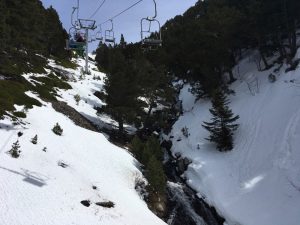 balcony to enjoy the warmth of the sun. Its accessible on skis but the return trip must be on the chair lift through the gorge, which was beautiful. Listening to the trickling snow melt and the children loved spotting the animal footprints in the snow.
After lunch we head back to the slopes and enjoy a few more runs down with the kids. The afternoon sun is really warm now and the snow a bit slower. At one of the many places to stop for hot chocolate on the slopes, the children had great fun throwing snow balls, rolling down the slopes and making slides.
We headed back across the pistes to the tele-cabins and down to the town below. Where we love to buy the hot bread and local cheese to take home. The children had their usual turn on the merry-go-round because you're never too old for that are you? A walk through the town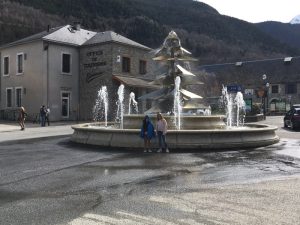 saw the shops all with the sales on. This lively town of St Lary-Soulan is still buzzing.
On the last day of the season we leave with a heavy heart. But know we will be back in a few months for the summer season in the mountains with the bikes.