The Gite
Gite Colombe des Bois accommodates 6 people for holidays in the Pyrenees. The gite consists of bedroom, bathroom, open plan lounge and diner with a kitchenette upstairs. Floating above is the mezzanine with 2 more beds. With views of the Pyrenees from the balcony and every window.
Local Area
Nestled in the foothills of the heavenly Pyrenees. Experience life in France, see what is going on nearby our beautiful little village of Mouchous. read more…
Local Activities
The endless sporting activities that can be tried and perfected in the vastness of the Pyrenees.
See more activities…
In 2005 we made the decision to move to a 200 year old farm house in the beautiful French Pyrenees, where we could experience the calmer pace of life here in the mountains. We embarked on our journey.
If you enjoy days out on the rivers and in the majestic mountains. Stopping for just a minute at the busy Cafe. No screens, no phones, no lights even. Just the moon, the stars and the crackling fire, where you can cook dinner alfresco. This could be the perfect destination for you.
Gite Colombe des Bois is waiting for visitors wanting to enjoy comfortable simple surroundings. We hope you will come here and recharge your batteries or wear them out… Make some memories and leave with a longing to return soon.
Read more about our story, or see what we've been up to recently in our blog.
Recent Posts
Follow our blog here in the Pyrenees, share in the journey with us and read about the French way of life.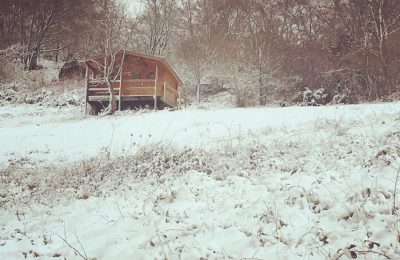 Sunday morning we woke up to snow at the house. The clouds break and we were able to
What a fantastic place to stay… The local knowledge Bruce and Polly provide is second to none… DO NOT go without having a campfire evening and watching the stars.

Ian August 2017
Perfect gite, perfect location, perfect hosts…Accommodation is well thought out and offered plenty of space…Walking, mountain biking, off-roading or skiing, the area offers so much.

Nick December 2017
Polly and Bruce are excellent hosts… Nothing was too much trouble… It is difficult to put into words how much we enjoyed our stay… We highly recommend them!

Angelique from Netherlands August 2017
Welcome to Gite Colombe des Bois
Autumn colours in the garden and countryside around the gite in our beautiful little village of Mouchous.