It was the clearest sky and although the temperature is below freezing, we decided it would be a good idea to go for a night time snow shoe walk with the kids. No it wasn't a school night.
We set off to Mourtis 30 minutes away. We park up amongst the tall pine trees, which are weighed down with all the fresh snow fall. You could hear a pin drop, it was so quiet. Except for the kids screaming with excitement. The chance of seeing any wildlife was long gone! Snow shoes attached we leave the truck and head off along the track. The moon was full and every shard of light was reflecting off the glistening snow. It was stunning, like a carpet of diamonds. Nature at its best.
The only noise you could hear was the crunch of the snow underfoot and along the track we tell the children a story about the bears in the woods and they are both excited and terrified at the prospect of meeting anything in the woods tonight.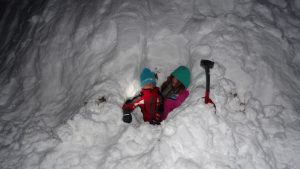 We spend an hour or more walking and stop for a while to build an igloo and have a snowball fight and leave our mark in the snow. Daddy cleverly packed a hot chocolate which was delicious, we pretend to hear something in the distance and tell the children its a good idea to head back to the truck, and leave the bears to their woods.
On the way home the children fall asleep and have the rosiest cheeks from the cold. It was so exciting, reminding us why we live here and it was the most beautiful walk in the snow.