Its that time of year we can stay in the kitchen and make delicious recipes for the store cupboard or daily delights! here are a couple of my favorites: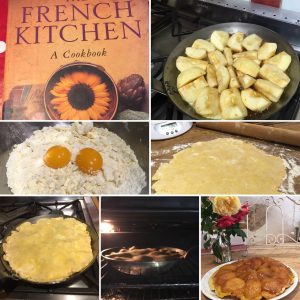 Tarte Tatin –
So easy to make, and the best part is its done within the hour. Top tip, use French butter and Chanteclerc Apples….
Make pastry, mix butter 100g, flour 150g until most of the butter is combined, don't worry if there are a few bigger bits left. Add sugar 25g and fresh egg yolks x 2, some cold water if needed (1-2 Tablespoons) bring together but don't work it.
Rest pastry in the fridge until apples are ready.
Peel, core and quarter 5 Chanteclerc apples, place in the pan with the French melted butter 50g and brown caster sugar 100g. Leave to soften on med heat for 10-15 minutes.
Roll out the pastry roughly 20cm diameter. (don't work it, its flaky pastry after all). Place disc of pastry on top of apples and tuck in any edges.
Place pan in preheated oven 180, for 20 mins, then turn oven down to 150 for another 20 mins.
Turn out immediately on a plate upside down (be careful of the hot caramel sauce).
Serve warm with creme fraiche.
Bon appetit …
Mango Chutney:
This time of year there are cheap Mangos in the markets, so I always make a batch of Mango Chutney with our own chillis for a bit of heat!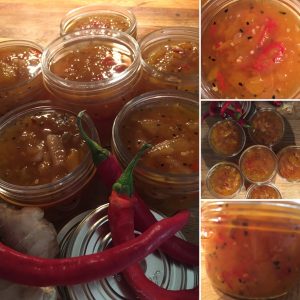 Put 1kg white sugar, 1200ml white vinegar in a pan and bring to simmer, until it reduces 2 cm. Cut 5 mangos, 3 chillis, and a jar of stem ginger, 5 cloves garlic.
Heat in a pan, 5 tsp nigella seeds, 15 crushed cardamom pods, 3 tsp cumin, 3 tsp chilli pepper, 5 tsp coriander seeds. Add to vinegar with cut mangos, chillis, ginger, and garlic.
Let simmer for 45 mins. Jar and label, keep for 6 months (if it doesn't get eaten first), enjoy with a good curry or a cheese course!
This looks such a delicious chutney, the colours are so bright. It's absolutely lovely.